DAVID CAMPIGNON PLAYS CLEMENTI Didone & PROKOFIEFF Romeo and Juliet   Live At The Manoel Theatre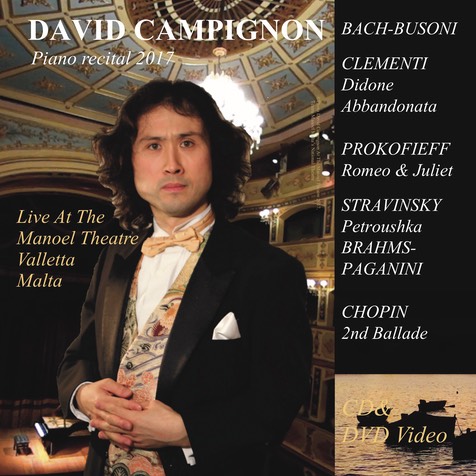 BACH-BUSONI
Chorale Prelude in F minor, BWV 639 Andante
CLEMENTI
Sonata in G Minor Didone Abbandonata, Op 50 No.3, Scena Tragica I. Largo patetico e sostenuto-Allegro ma con espressione-più allegro
(diliberando decided e meditando meditative) II. Adagio dolente
III. Allegro agitato(e con disperazione desperate),
CHOPIN
Ballade in F Major, Op. 38
BRAHMS-PAGANINI Variations, Op 35, book II
                                                        ———Intermission———
STRAVINSKY Three mouvements from PETROUSCHKA Russian Dance, At Petroschka's cell, Maslenitsa
SERGEI PROKOFIEFF Ten pieces from Romeo & Juliet Op.75
6  Folk Dance 7  Scène, The Street Awakens 8  Menuet, Menuet Arrival of the Guests 9  The Young Juliet 10 Masks 11 Montagues and Capulets 12 Friar Laurent 13 Mercutio 14 Dance of the Girls with lilies  15 Romeo bids farewell to Juliet 
 Lifestyle & Culture Telling stories at the piano: David Campignon piano recital Telling stories at the piano: David Campignon piano recital Tuesday, 16 May 2017.
A Belgian born in Japan, pianist David Campignon delighted the audience at the Manoel Theatre during his performance on 29 March. The performance was indeed of an outstanding level and the audience responded very positively. Campignon has performed extensively in France and Japan, besides having won several awards. He had already performed on the Maltese Islands at the Victoria Arts Festival. The pianist's good taste was evident in his choice of repertoire, with a strong element of melody evident in all the works chosen. Most of them had a programmatic title, being inspired by famous works of literature. The programme followed a chronological order, with the qualification that Bach's piece was actually a transcription by Busoni from 1898. As the pianist journeyed through the ages, his playing adapted itself idiomaticlly to the repertoire; yet he somewhat managed to keep a personal style throughout.
Campignon opened his programme with Busoni's transcription of Bach's Chorale Prelude in F minor BWV 639. It is an arrangement of the chorale prelude Ich rut zu diι Herr jesu Christ (I call to you, Lord Jesus Christ) from Bach's Little Organ Book. Campignon efectively reconciled Busoni's romanticism with Bach's Baroque spirit. This was followed by Clementi's Sonata in Gminor Didone Abbandonata, Op 50 No.3. This is one of the few piano pieces for which Clementi provided a programmatic title, being inspired by the story of Didon and Aeneas. The sonata conveys a strong sense of personal tragedy; it is in fact subtitled Scena Tragica. Campignon conveyes the drama effectively, yet also bringing out its lighter lyrical moments. He next performed Chopin's Ballade in F major Op. 38. Despite the display of bravura that this piece requires, Campignon maintained a certain restrained composure. During Brahms' Variations on a theme by Paganini, Op. 35, he brought out the character of each variation while keeping the theme consistently evident. The next set to be performed, Three movements of Petroushka, is an adaptation of Stravinsky's famous ballet.Stravinsky had insisted that these three scenes were not merely transcriptions for piano, but were actually compositions in a proper pianistic vein. Despite the modernism of this work, it is still very much in a tonal idiom and rich in playful melodies. Campignon concluded his recital with Prokofiev's Ten Pieces from Romeo and Juliet, Op. 75. Originally written as a ballet, large sections of Romeo and Juliet were later transcribed for the piano by Prokofiev himself. Each piece of the suite represents a phase of the story; Campignon beautifully brought out a different character in each scene, giving an added dimension to the narrative. The interesting choice of programme found full expression in Campignon's musicianship and virtuosity. Throughout the performance he employed a very effective tone balance, avoiding excessive fortes. His mastery of pedaling respected his careful ariculation and matched the acoustics of the theatre splendidly. Maybe what struck me most as a listener was that David Campignon's playing seemed to reveal the composers' intentions so clearly that the concert ceased to be about the piano, but was rather an explication of the intricacies of the music.     by John Anthony Fsadni 
//////////////////////////////////////////////////////////////////////////////////////////////////